Take a look at our workshop
The welding process requires a professional approach from the beginning to the end. Our elaborate quality policy penetrates into every individual area of production.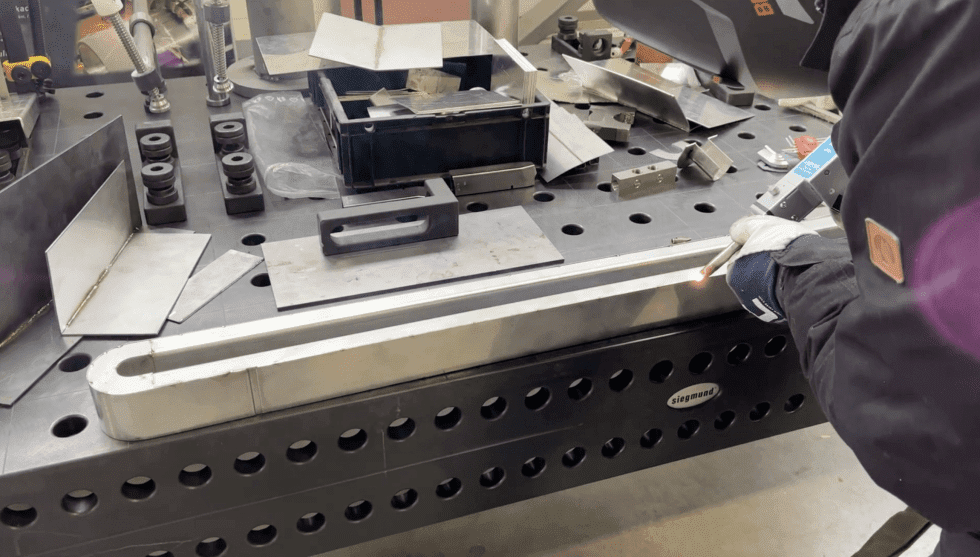 Manual welding
The equipment in our welding workshop is very diverse. Our experienced certified welders work with the best tools that the market can offer. In principle, it consists of Fronius equipment for MIG, MAG, TIG and laser welding, higher-level welding mechanisms such as a rotary positioner, a Push Pull welding torch or Siegmund clamping and fixture tables.
3x MagicWave 3000 Comfort Job
1x Welding trolley FDV 22
2x TransTig 3000 Comfort Job
1x RWT POTTER 425.91
1x TPS 320i Pulse including a Push Pull torch
1x TPS 270i Pulse
Manual laser welding
This state-of-the-art technology allows us to weld stainless steel parts in maximum quality with minimum transferred heat, which is particularly convenient for longer welds on weldments up to a thickness of 4.0 mm.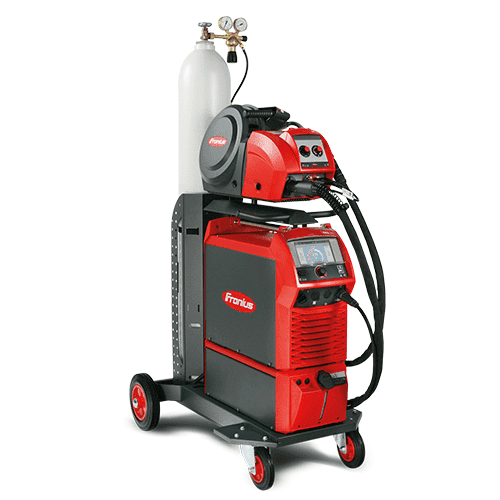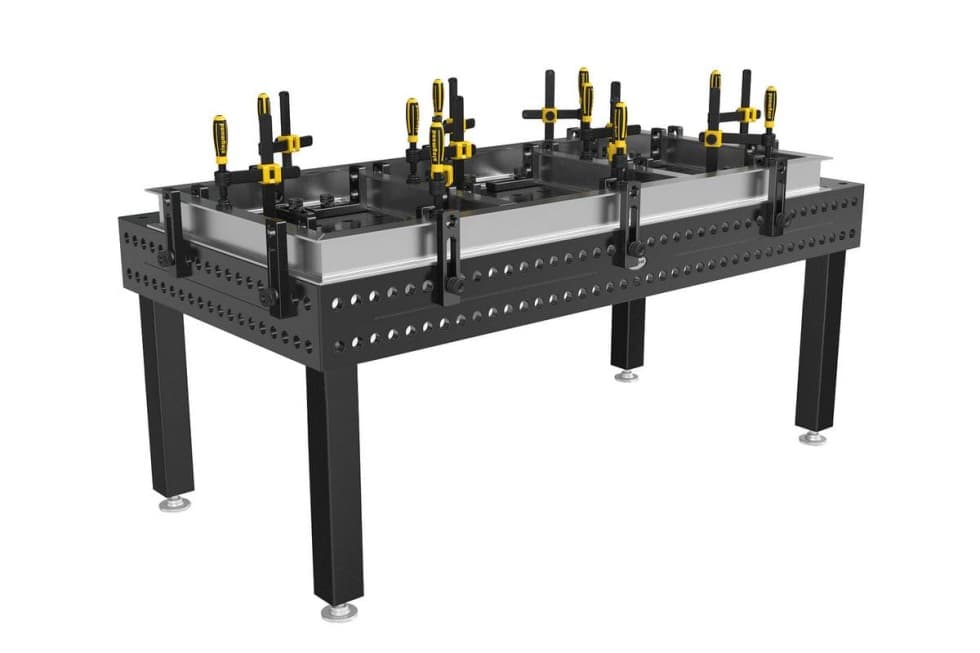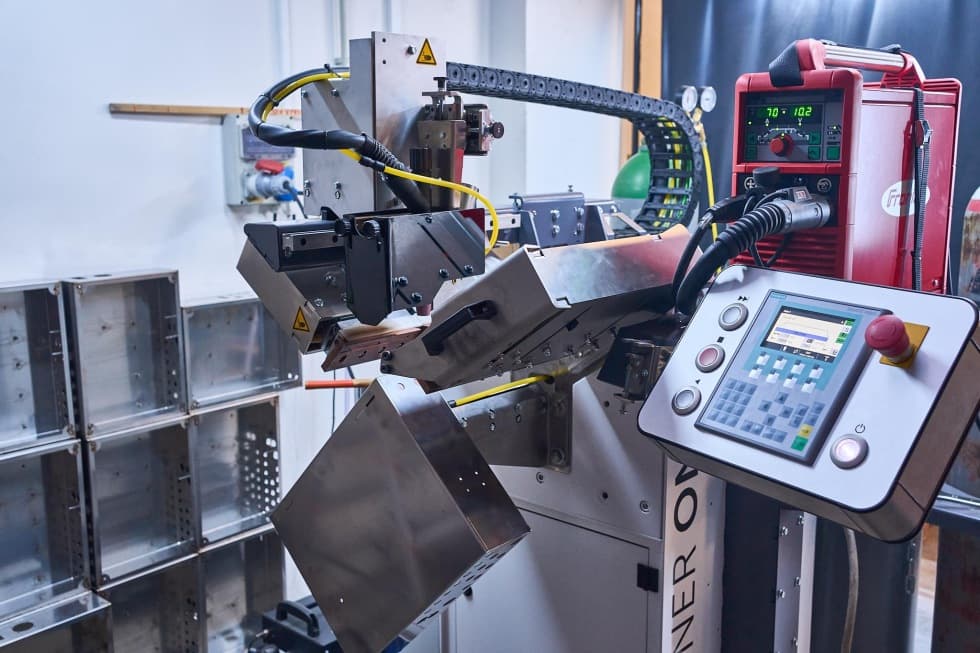 Longitudinal welding of corners
The CORNER WELD 320 welding machine made by the German Schnelldorfer company is ideal for automatic longitudinal corner welding of small switchboards and cabinets. This equipment excels in the high quality of welds without further grinding, with repeatability and manufacturing capacity. The automatic welding machine is designed for welding corners up to 320 mm in length.
We offer free capacity of this equipment. If the box has specific shape or material requirements, we can fit the machine with a welding unit for aluminium and cold wire feeding.
Resistance welding
Stationary machines with an output of up to 125 kVA for the welding of sheets and nuts.
Tecna 4644
A rocker arm spot welder with a 25 kVA (DZ 50%) output for welding thin sheets to a thickness of up to 2+2 mm.
AWECO BPS 1.125
The resistance welding press with an output of up to 125 kVA (DZ 50 %) is primarily used for welding nuts in our production. However, we originally intended to use it in a wire programme, where it can perform several spot welds during a single travel.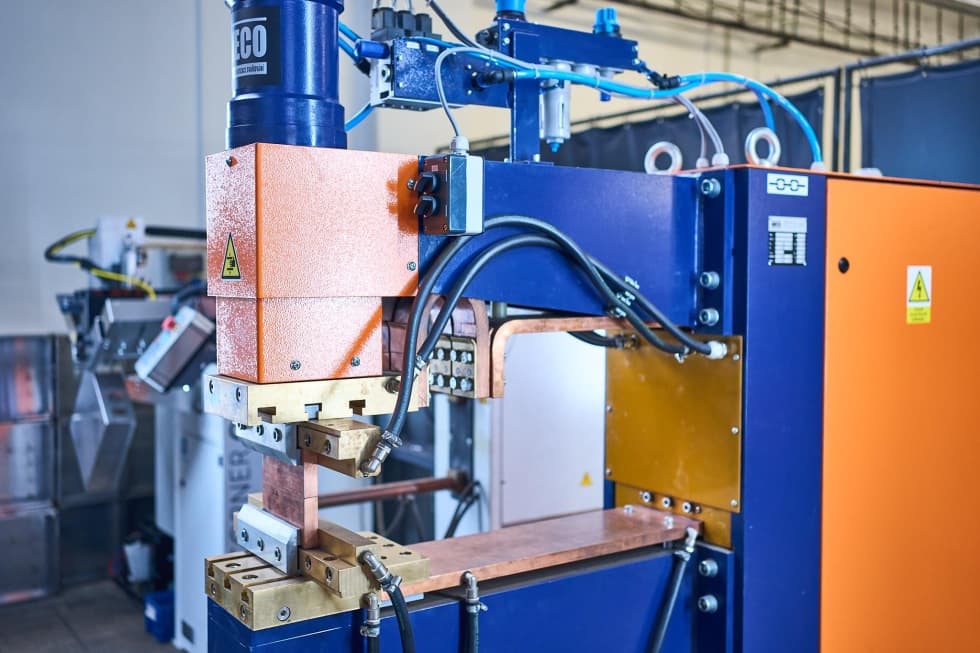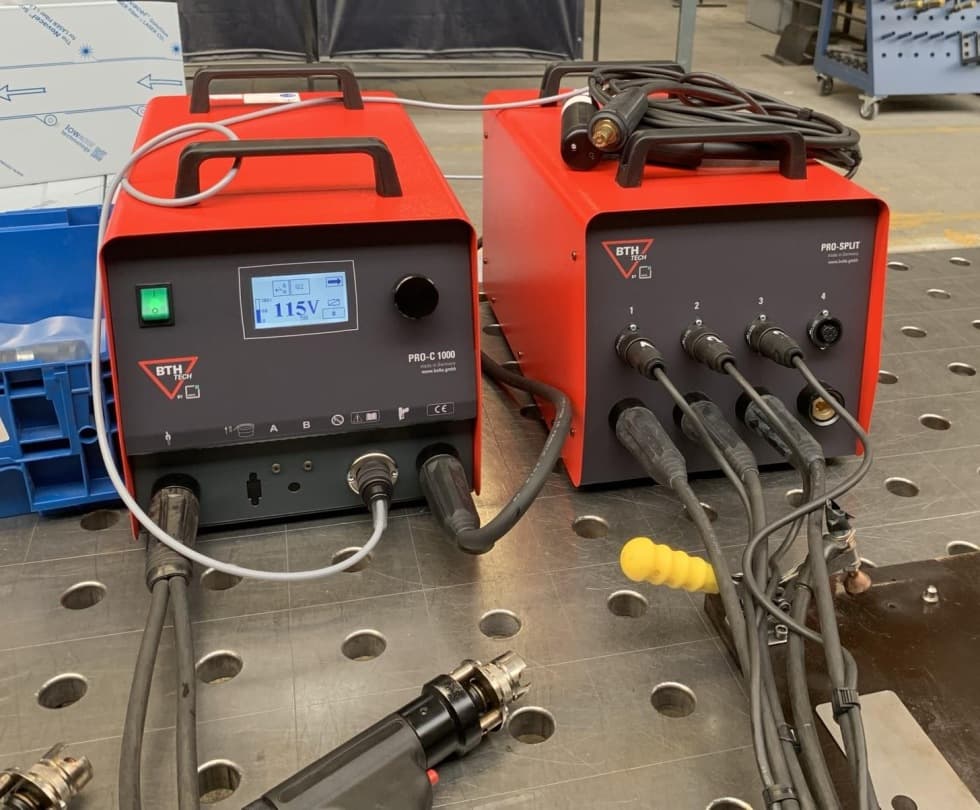 Stud welding
A highly productive PRO-C 1000 machine for welding studs, fitted with a PRO-SPLIT adaptor allowing connection of up to 4 welding guns.
A microprocessor controlled PRO-C 1000 welding unit using an ignition tip method. Our most frequently used studs are M3 to M10 bolts or pillars with internal thread. The welded materials are steel, stainless steel and aluminium. This welding unit is additionally equipped with a special PRO-SPLIT adapter, which allows connection of up to 4 welding guns to a single welding unit. In this way, we can productively and very accurately weld multiple types of studs within a single clamp in a fixture.
Rounding
A four-roller Prinzing RBB 85/103 rounding machine for thin sheets
Thanks to NC operation, we can not only make pipes, but also other cross-section shapes on the RBB rounding machine.
Sheet width: 1,030 mm

Sheet thickness: 2.5 mm (400 N/mm2)

Upper roller diameter: 85 mm

Speed: 0-14 m/min.
Four-roller BIKO B4 2014 CNC rounding machine
Sheet width: 2,005.0 mm

Sheet thickness: 4.0 mm (400 N/mm2)

Roller diameter: 140/130/130 mm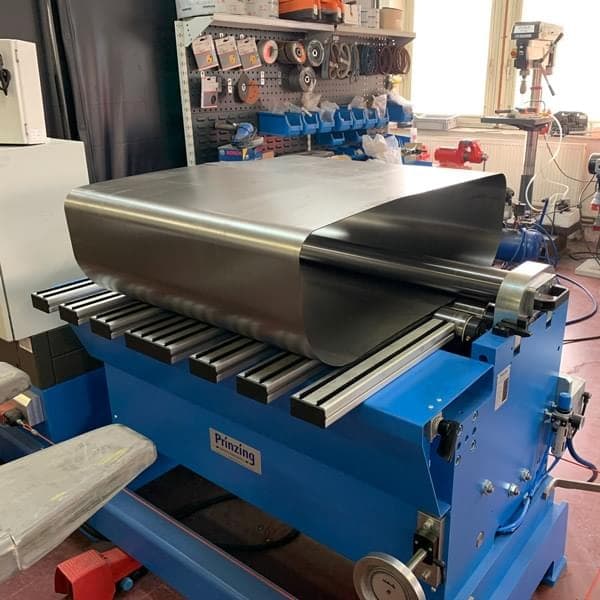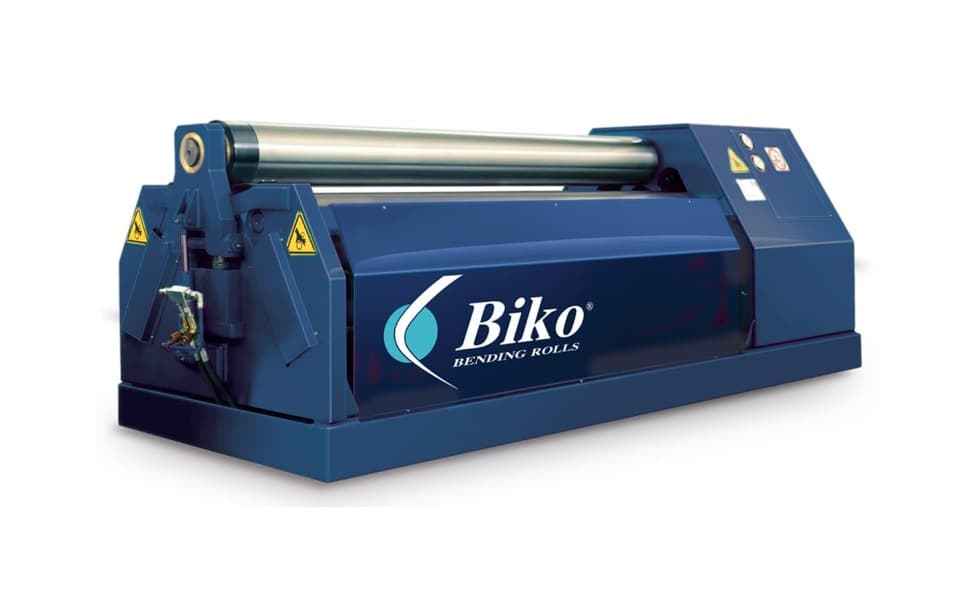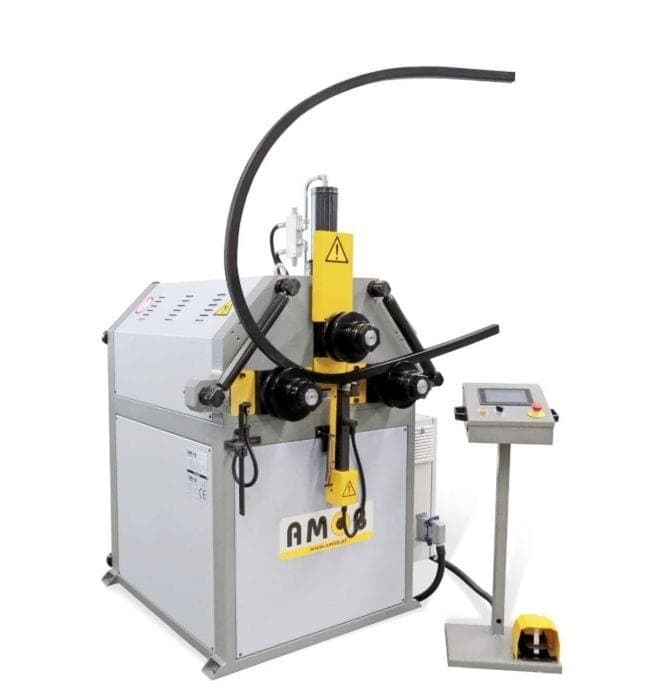 Profile rounding
We use this machine to roll stainless steel pipes and bars, which serve as parts for children's playgrounds and slides.
Surface treatment
Glass bead blasting
We use B112 (150-250 µm) or B159 (80-150 µm) glass beads.
We own a 6x3 m blasting box, which is designed for medium-size parts (3-50 kg). We mostly blast stainless steel weldments from our production such as children's slides, parts for rolling stock, etc.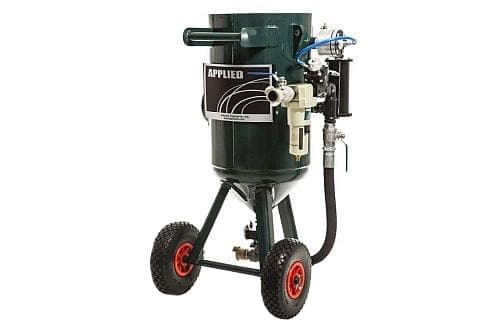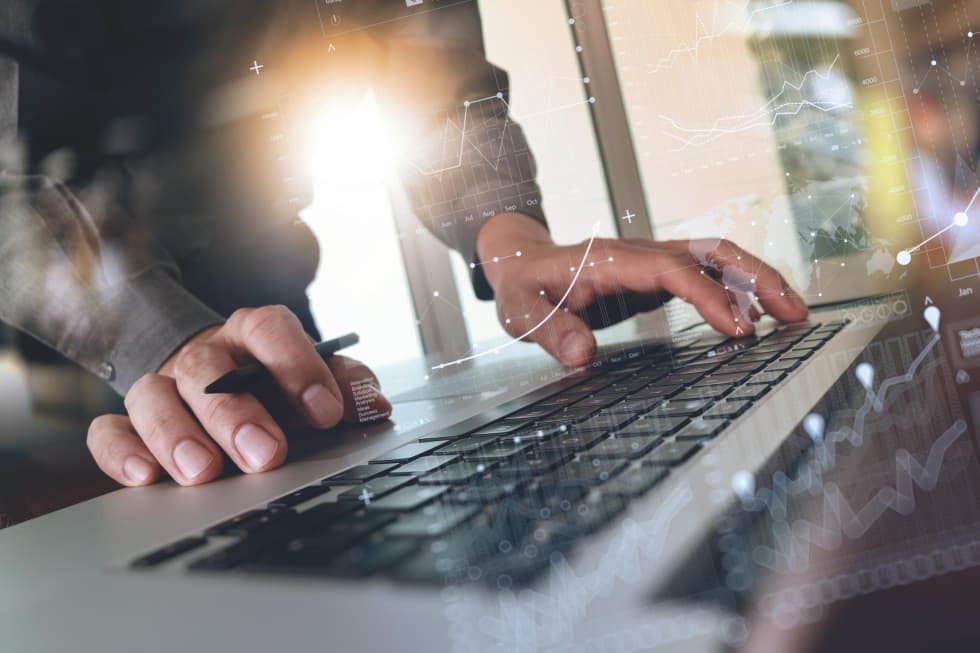 3D modeling
SolidWorks
We use SolidWorks software to create 3D designs and manufacturing documentation.
If the customer provides documentation, it serves as a tool for pricing the finished product. If the customer has an idea of the product (e.g. a water tank) but lacks manufacturing documentation (data for laser, press break or machining), we can make a 3D design and manufacturing data.